Atlas Genetics reels in $20M in Series C round for rapid infectious disease tests
Print 04 February 2015
Emily Wasserman / Firece Diagnostic
U.K. diagnostics outfit Atlas Genetics roped in $20 million in Series C financing to develop its ultrarapid point-of-care tests for infectious diseases, gearing up for a European launch of the product and expanding its foothold in a growing market.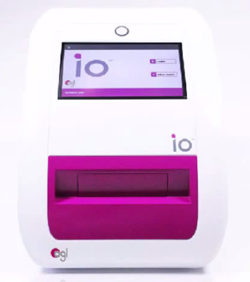 The company will use funds to roll out its io molecular diagnostic system in the EU, kick off clinical trials for the product in the U.S. and expand its offerings for sexually transmitted infections and hospital-acquired infections. Atlas plans to launch its io system with a test for chlamydia in Europe later this year, the company said in a statement.
Atlas' io system helps diagnose a variety of infectious diseases by using a three-step process that includes DNA amplification and electrochemical sensor technology. Each cartridge in the system can carry out up to 24 different tests from a single patient sample, allowing clinicians to process results in less than 30 minutes. Physicians and primary care clinics can perform the tests and treat a patient during the same visit, potentially improving compliance in patients with STIs.
New investor RMI Partners contributed funding, and existing investors such as Novartis ($NVS) Venture Funds, Consort Medical and Johnson & Johnson ($JNJ) Innovation also joined the Series C round. The financing follows a $25 million Series B round Atlas' rapid io diagnostic system.
"This is an exciting time for the company as we prepare our first product, a test for the sexually transmitted infection Chlamydia, for launch in Europe later this year. The funds will enable us to commercialize our io system and to build out a program of much needed 'test and treat' assays in markets where time really does matter, both for the physician and for the patient," Atlas CEO Dr. John Clarkson said in a statement.
But Atlas is far from the only company homing in on next-generation tests for infectious diseases. Diagnostics outfits such as Sedia Biosciences, Accelerate Diagnostics ($AXDX) and BacterioScan are also hard at work on their own products, raking in funds and ramping up commercialization for their diagnostic tests. In February, Sedia said it would use a $1 million NIH grant to develop an HIV diagnostic test. In May, Accelerate reeled in $45 million to accelerate R&D for its in vitro diagnostics for infectious diseases.
Not to be outdone, in vitro diagnostics outfit BacterioScan recently closed an oversubscribed Series A financing round to support development of its rapid diagnostic test for urinary tract infection (UTI). The St. Louis, MO-based company did not disclose financial details but said it would use funds to complete work on "Model 216Dx," a product that helps hospitals and clinical microbiology labs process results from UTI specimens more quickly.