By Ellen Rim, Jamin Koo, Kat Kozyrytska, and Xiaoyuan Han
NASH Market
Nonalcoholic steatohepatitis, or NASH, is a chronic liver disease characterized by inflammation, fibrosis, and cell death. The onset of NASH is preceded by nonalcoholic fatty liver disease (NAFLD), which is the accumulation of liver fat believed to be benign in the absence of inflammation and cell death. NASH can lead to fibrosis and progression to cirrhosis in 25% of patients. This condition affects up to 5% of the U.S. population and costs $600MM per year nationally. NASH prevalence is on the rise along with obesity and diabetes: NASH market is predicted to reach $1.3B by 2017 in the U.S and $30B by 2025 worldwide. There are currently no FDA approved treatments for NASH. A number of companies are pursuing therapies that address different stages of the disease, and it is likely that a combination of these drugs will prove to be the most effective. Below we consider Tobira Therapeutics (NASDAQ:TBRA) with focus on its compound for treatment of NASH.
CVC Mechanism of Action
TBRA has one drug candidate, cenicriviroc (CVC). It is a chemical compound that concurrently inhibits CCR2 and CCR5 receptors. Both CCR2 and CCR5 are chemotactic receptors: they bind chemokines (CCL2 and CCL5, respectively) and recruit cells associated with immune response (monocytes in the case of CCR2 and T-cells, eosinophils, and basophils in the case of CCR5). CVC is reported to bind very tightly to both receptors, with IC50 values of 5.9 and 3.1 nM, respectively. Pharmacokinetic data obtained in trials showed extensive interaction between CVC and CCR2 and CCR5 in patients (estimated occupancy greater than 90%). Lastly, toxicity profile showed that a relatively high oral dose of 150 mg is well-tolerated in patients. These potent antagonistic interactions with CCR2 and CCR5 are expected to have a strong clinical effect in HIV and NASH patients and potentially other cohorts as well.
Since inflammation is believed to be a major factor in the development of NASH, CVC's anti-inflammatory effects are likely to reduce inflammatory damage to the liver. In mice, CCR2 and CCR5 were shown to promote hepatic fibrosis and migration of hepatic stellate cells following liver injury. Liver inflammation, in which hepatic stellate cells appear to have a role, has been implicated in multiple symptoms associated with NAFLD/NASH. Therefore, inhibition of the two receptors by CVC is likely to slow down or stop progression of NASH. Indeed, in animal studies, CVC reduced liver collagen deposition in a rat model of thioacetamide (TAA)-induced fibrosis when CVC administration was initiated simultaneously with TAA or prior to cirrhosis formation. CVC also showed anti-inflammatory effects and decreased liver cell death.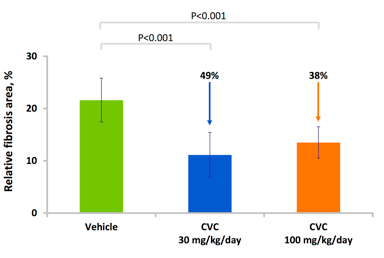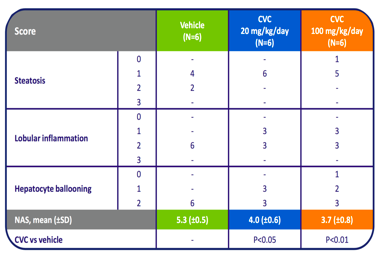 Source: Tobira Therapeutics.
Anti-fibrotic and anti-inflammatory activity of CVC
However, it is not clear whether CVC will be able to become the answer to NASH. While CVC has demonstrated strong anti-inflammatory and anti-fibrotic effects, NASH pathogenesis is still unclear. Current drug candidates address symptoms rather than the currently unknown underlying cause. Additionally, it is not yet clear how many of NASH symptoms CVC can address. Even if CVC does turn out to be the entire answer to the problem of NASH, the compound is a strong candidate for combination therapy either with compounds that are currently in clinical trials or with those that will be developed to address the underlying causes of NASH.
Current clinical applications of CVC focus on NASH and HIV. TBRA has successfully completed Phase 1 trial for CVC in both NASH and HIV cohorts. Following successful completion of Phase 2b in the HIV cohort in spring of 2013, TBRA has announced its plan for Phase 3 trial in HIV patients. In NASH/NAFLD, TBRA has completed enrollment of 289 patients for Phase 2b trial in NASH patients ((CENTAUR)) and for Phase 2a in diabetics with early signs of NAFLD (ORION). While CENTAUR is designed to measure anti-fibrotic and anti-inflammatory activity of CVC, ORION will focus on a diabetes-related symptom in early NAFLD patients - insulin sensitivity. Success of ORION will likely bring TBRA into the much larger market spanning diabetes to NAFLD to NASH.
To summarize, CVC has a great potential as a clinical inhibitor of inflammation. Currently in clinical trials for its effects in HIV and NASH, the compound has a potential to grow into the diabetes market. But the number of diseases associated with inflammation continues to grow. As we learn more about the involvement of CCR2 and CCR5 in inflammatory diseases, CVC is likely to become a promising drug candidate for other conditions as well.
Regulatory Risks
TBRA faces reduced regulatory risks in NASH trials with CVC. The fast track designation given in January 2015 will enable the company to communicate with FDA faster and with greater ease throughout the remainder of the trial. Historically, drugs under this designation have benefited from shorter approval times, in some cases by several years. CVC will likely enjoy similar benefits if the key primary endpoints are met successfully. The only concern stems from the absence of drugs approved for treating NASH, which may cause the FDA more trouble in setting endpoints and standards for approving CVC.
There seems to be no significant regulatory risks for CVC in HIV treatment. TBRA is considering adjunctive treatment options for HIV. Such practice is common in treating other conditions and there is no evidence suggesting a higher risk for CVC. The only regulatory concern for TBRA stems from the fact that this is the only drug the company has at hand. Any major safety issues, if discovered, will strip TBRA of the only drug compound it has; however, more than 600 patients have tolerated up to 150 mg daily dose without serious side effects.
Management
With the exception of CFO, the management team consists of people who bring at least 15 years of professional experience in areas including drug development and commercialization. The current CEO has been in position since 2012. He has outstanding experience in developing treatments for liver diseases and HIV, which are the two primary targets for the company's drug. The CMO and VP of clinical research and discovery have long-term commitment to and experience in the field of HIV mechanism and treatments. The CEO is thus the only person on the executive team who has significant experience in liver diseases.
The management team is supported by the BOD with expertise in the fields of VC, finance, business development, and medicine. The chairman, Mr. Podlesak, has built and sold several pharmaceutical ventures since 2005. He was on the board of Regado Biosciences (NASDAQ:RGDO), which ran into a major safety issue during a Phase 3 clinical trial. After halting the trial, RGDO merged with TBRA in early 2015. Since the merger, Mr. Podlesak has been chairing the BOD at TBRA. The chairman's previous success in salvaging Regado speaks to his versatility and persistence towards building a successful biotechnology firm. However, he has mainly been selling startups to large pharmaceutical companies midway rather than staying in it for the long run.
Competition
TBRA has positioned itself to address two markets: NASH and HIV. While no FDA-approved treatments for NASH currently exist, a number of companies are racing to the approval, and some have been accepted for expedited FDA review. At the same time, a great variety of approved HIV treatments exist, and many of them are used in combination. In both markets, TBRA's compound CVC stands out because of its unique anti-inflammatory mechanism of action.
The two most prominent competitors of TBRA in the NASH space are Intercept (NASDAQ:ICPT) and Genfit (OTCPK:GNFTF). ICPT has launched Phase 3 trial with its lead compound OCA. However, this launch is tainted by a recent failure to replicate the success of its Phase 2 trial among a cohort in Japan. Whether the origin of this failure is in genetic variation or otherwise, ICPT will likely have to deal with it in its Phase 3. GNFTF has encountered its own challenges. The company recently announced Phase 3 to test its compound Elafibranor in a NASH cohort. But this announcement came as a surprise given that in Phase 2, Elafibranor failed to improve the condition of NASH patients, at least for those early in the disease.
Another two companies of interest are Zydus Cadila (NSE:CADILAHC) and Cempra (NASDAQ:CEMP). The company closest to developing a compound approved for treating NASH is CADILAHC, which is already running a Phase 3 trial with results expected in Q1 2016. However, the trial is not running through the FDA. If the company were to seek FDA approval in the future, FDA is likely to impose additional requirements, including data demonstrating study conformation to FDA standards for Good Clinical Practice and potential on-site inspections. However, it is not clear whether CADILAHC is planning on ever entering the U.S. market and thus becoming a direct competitor for TBRA. On the other hand, CEMP is facing a practical challenge as well: the compound the company is developing is an antibiotic, and prolonged use of antibiotics is likely to be perceived as contradictory to the overall policy of reducing antibiotic use and antibiotic resistance.
Three other companies of interest are Galectin (NASDAQ:GALT), Gilead (NASDAQ:GILD) and Novo Nordisk (NYSE:NVO). While these compounds are ahead in their trials, the compounds tested can only be delivered intravenously (GALT and GILD) and subcutaneously. Since other trials are for compounds administered orally, difficulty of administration will be a strong disadvantage for these companies, especially given the long-term nature of NASH treatment. To address this, NVO has been developing an oral formulation of its GLP-1 compound in collaboration with Emisphere Technologies (OTCQB:EMIS) since 2008. This compound is currently being tested in Phase 3 trial for its effectiveness in patients with type 2 diabetes. Even if the formulation is shown to be effective and is approved, transitioning into NASH space will likely take a few years.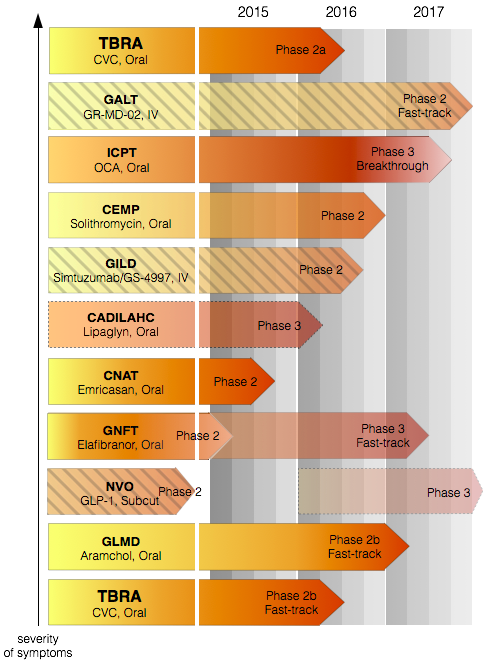 In a disease as complex as NASH, being the first on the market is unlikely to mean complete dominance. In part, this is because NASH is a complex disease, and in part because the disease is routinely diagnosed late in stage. Thus, a combination therapy acting through multiple pathways later in progression is most likely to be effective and to become the standard of care. All of the drugs discussed above affect different stages of symptoms and most act through distinct molecular mechanisms. To address this opportunity, TBRA has launched Phase 1 trial for the combined effect of CVC and Pioglitazone, a standard diabetes drug, in a NASH cohort. Pioglitazone alone has been shown to improve multiple parameters associated with earlier stages of the disease (histology, insulin sensitivity, weight loss). On the other hand, CVC has been shown to reverse fibrosis in animals. This makes Pioglitazone-CVC a great candidate for combination therapy.
Clinical trial progress of Tobira Therapeutics and its major competitors in NASH. Source: This visual is a synthesis of information from the aforementioned companies' websites. While a number of companies have been advancing rapidly in their NASH trials, a lot of them have encountered challenges on their path to FDA approval. Amongst these companies, TBRA stands on solid ground in its findings and is expected to steadily progress to approval. The depth of red indicates the estimated proximity of a given compound to FDA approval. Certain companies are greyed out for their challenges: ICPT because of its failure to replicate Phase 2; GNFTF because of its ambiguous Phase 2; CADILAHC because its Phase 3 trial is non-FDA; CEMP because of the long-term effects of antibiotics; GALT and GILD for difficulty of drug administration; NVO for difficulty of drug administration and because its Phase 3 is in diabetes, not NASH.
In the HIV space, CVC plans to engage in combination trials. Due to the nature of the disease, it is likely that combination therapies that affect multiple pathways will continue to be the treatment of choice. In this respect, CVC is in an advantageous position. First, since CVC interacts with two receptors (CCR2 and CCR5), it acts through two pathways simultaneously. Secondly, only one of these two pathways currently has a FDA-approved inhibitor (Maraviroc). This inhibitor leads to an increased viral content, but CVC has been shown not to exhibit this side effect. Such dual mechanism of action makes CVC a powerful agent that may deliver the same effect for half the toxicity.
There is a single compound currently in clinical trial that has similar chemical properties (CCR2/CCR5 inhibitor). This compound is being developed by Pfizer (NYSE:PFE). However, the binding profile of the Pfizer compound is inferior to that of CVC: it binds CCR2 and CCR5 less well than CVC. Pfizer is testing the compound in conditions other than NASH and HIV (type 2 diabetes, overt nephropathy, renal impairment, and diabetic macular edema), thus not competing directly with TBRA. The information acquired in these trials will serve as a guide for TBRA's future trials.
Market valuation and financial risks
With 18.8M shares outstanding trading at $11.47 per share as of December 4th, TBRA is a micro-cap valued at $216M. With 2.4M warrants and other dilutive securities, TBRA's fully diluted market cap is at approximately $240M. Many pharmaceuticals with Phase 2 and Phase 3 candidates in NASH are more highly valued; Cempra at $1.3B, ICPT at $3.8B, and GNFTF at $940M. Giants that have entered the NASH race such as GILD and CADILAHC are in their own league, valued at $150B and $408B, respectively.
TBRA

Phase 2b

GNFTF

Phase 3

GALT

Phase 2

CNAT

Phase 2

GLMD

Phase 2b

Market Cap ($MM)

216

938

55

60

92
Market cap comparison of major NASH players, mid-caps and under with their lead trial phases. Source: Data from Yahoo Finance. Excluding pharma giants such as GILD and CADILAHC puts TBRA in the middle of the pack.
Based on the operating expenses reported in Q2, we estimate TBRA's cash reserves to last 27 months at the current burn rate. There is no mention of planned fundraising in the short term. Its Phase 2b global NASH trial with CVC, CENTAUR, has cost $12M of the $18M allocated to research and development in the first three quarters of 2015. In August, TBRA began enrolling for ORION Phase 2a, another clinical trial with CVC focusing on its effect on insulin sensitivity in obese, diabetic patients with suspected NAFLD. Higher expenses incurred by CENTAUR's later stages, as well as progression of ORION and other trials, will add to the current spending and increase the burn rate. This poses a financial risk. Given TBRA's smaller cash reserve and single-drug pipeline, unexpected delays in trials and sharp increases in expenses may present a challenge to the company.
Conclusion
CVC is TBRA's only compound, with most advanced trials in NASH and HIV, markets that have already attracted a lot of competition. However, TBRA's lead trial is in NASH - a condition with remarkable disease heterogeneity and currently without an approved prescription drug. The NASH market is projected to grow into a multibillion market within the next few years, bringing in multiple players with compounds acting by various mechanisms. CVC, a potent inhibitor of chemokine receptors on immune cells, has been shown to reduce fibrosis, inflammation, and insulin resistance in animal studies and its safety has been demonstrated in 600 patients. Considering the established safety and the FDA fast track status of CVC, the experienced management team, and the promise of the NASH market, we believe that TBRA is moderately undervalued. Primary endpoint report of their NASH clinical trials in 3Q 2016 will prove pivotal for the company. Barring scenarios such as failure to improve clinical measures such as NAFLD Activity Score or fibrosis, or serious side effects in combination therapy, CVC is likely to emerge as one of the key drugs in NASH treatment.
Editor's Note: This article covers one or more stocks trading at less than $1 per share and/or with less than a $100 million market cap. Please be aware of the risks associated with these stocks.