There is practically no venture financing institution in the field of Life Sciences in Russia
Print 07 August 2012
Kirill Sedov, Farmatsevticheskiy Vestnik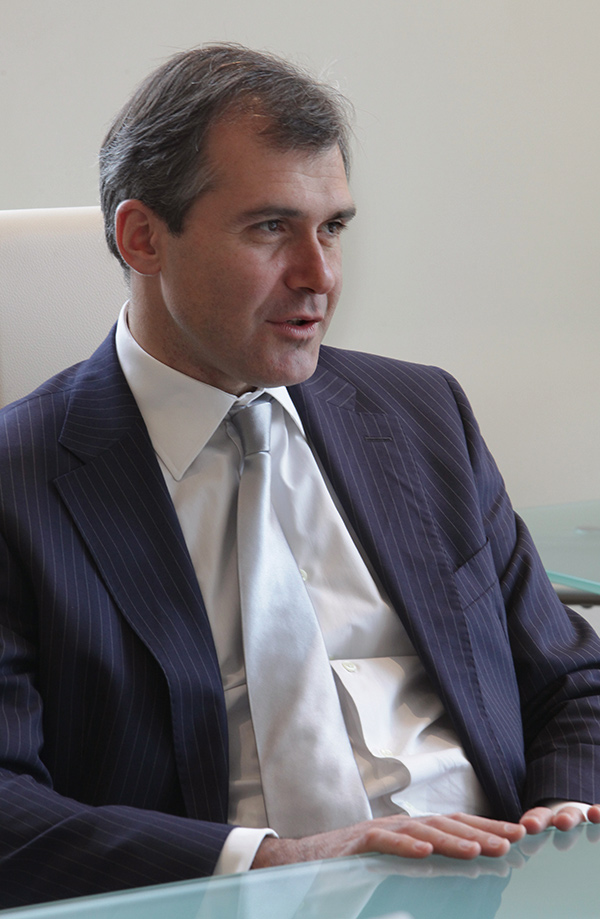 In late July, it became known that Rusnano and American venture capital fund Domain Associates made investments in Coda Therapeutics, Inc. amounting to USD 40 million. It is the first transaction under the agreement implying investments in the amount of USD 760 million. Rusnano's pharmaceutical industry largest project will be implemented by managing company Team Drive co-founded by Leonid Melamed, former president of MTS and Sistema JSFC. In the interview to Farmatsevticheskiy Vestnik, Team Drive Chairman of the Board of Directors said that the company having undertaken a venture project in the Russian pharmaceutical market had to act as a pioneer.
- The investments into CoDa Therapeutics were announced four months after the agreement was signed between Rusnano and Domain Associates. What problems were being solved at that time?
- We have covered a rather long way for these four months. We set up two companies solving related problems. One company, RusnanoMedInvest (RMI, Rusnano's subsidiary – note by Farmatsevticheskiy Vestnik) deals with venture financing issues. This sector requires a fairly specific competence that is almost non-existent in the Russian market for the time being: it is impossible to find a ready team of professionals in this field, we had to select specialists from related areas and retarget them to match certain industry specificity. This very thing has been done. We get assisted so much by our partners from Domain Associates. Rusnano's interaction with this large and greatly experienced American venture capital fund is very useful for garnering experience, because in Russia there is practically no venture financing institution in Life Sciences today. The alignment of the work technique, organizational structure, interaction between team members needs time, including the four months consumed for this very purpose. We have developed procedures for evaluating project companies - developers of new medicines, analyzing them and making investment decisions. In the near future, we are hoping to become first-rate venture capitalists in the industry.
We were offered a range of companies from the Domain Associates portfolio for potential investments in their preparations. In total, during the project implementation, it is planned to locate over twenty new pharmaceutical developments. At the current stage, we have selected seven companies, and five of them have already drafted proposals for investment decisions. The final decision on the transaction whether to invest in a particular preparation or not shall be made ​​by the RMI Board of Directors with Anatoliy Chubais as a chairman. For instance, such decision was made concerning Nexagon being developed by CoDa Therapeutics. Quite recently, we have announced of this transaction closing. RMI invested USD 20 million in the purchase of this company shares and further development of the preparation. The same amount was invested by our partners of Domain with a group of co-investors.
NovaMedica, a joint venture of Rusnano and Domain will therefore become the owner of the intellectual property rights to the preparation within Russia and the CIS.
NovaMedica is a second company set up during this time. Its role is to commercialize the rights for the preparations obtained through venture transactions: to create GMP-production and to organize distributions. In July, NovaMedica Board of Directors approved its preliminary strategy, by the way, headed by Anatoly Borisovich as well.
By the end of the year, we are planning to decide on spatial location of this company and choose an engineering company that will design the production facilities. We are negotiating with the owners of pharmaceutical clusters and bring forward no extraordinary requirements for our production. We take the same interests as investors planning to build pharmaceutical production facilities. Thus, choosing a suitable site will not make a problem.
- You are saying that over 20 companies have been selected from the Domain Associates portfolio for investments. What are the selection criteria in terms of commercial value as well?
- When selecting companies and products for investments, we should strictly follow the investment criteria which have been accepted by Rusnano. They are clear and reasonable. Firstly, those must be preparations in the late phase of development which can be introduced to the Russian market in three to four years. Preference is given to medicines for incurable and currently hard to cure diseases in Russia possessing a great social significance in this regard. The preparations should have a clear commercial prospect in Russia and in the CIS. Also, when withdrawing from the venture project, i.e. selling the company, these investments should yield high returns in the global market. We have clear criteria for the IRR, they are confidential, but I can assure that the return should be tangibly higher than 20%. The criteria include the quality of intellectual property rights, and, of course, those must be preparations containing nanotechnology elements.
- Many potential investors complain about Russia's lack of innovation environment, the relevant competencies to bring a development to commercial effect.
- Within this project, Rusnano is just solving this problem - to grow such competence in the country in the field of Life Sciences. This was the strategic idea of ​​our project, which was once invented and run by managing director of Rusnano Olga Shpichko supervising biotechnology within the holding, jointly with her team. To do this, we have such good sparring partner as Domain, which has the necessary experience, successful technology, expertise. In the process of implementation of the agreement, we are learning from them, fix these competencies in Russia, and in the long run we will be able to forward them to other projects, to Russian developers.
What is it for? To found thousands of own companies in Russia like CoDa Therapeutics. Strategically, it is important that lots of Russian innovative drug developers appear. The emergence of three or even thirty such companies will not solve the problem. In Silicon Valley, there are tens of thousands of them, so the probability of success is higher. The entire industry of medicines production lives only when it involves millions of people united into tens of thousands of companies. For that to happen, we need people with good ideas knowing how to become a correct applicant, we need to have institutions willing to give money and serve as "business angels".
Of course, it would be an exaggeration to say that Russian innovators have now absolutely nowhere to go. There are state development institutions like RUSNANO, Skolkovo, funds financed by RVC, there are simply private venture capital funds. Another thing is that the quality has to be attributable not only to an idea, but to its description and "business logics". There should be a clear technology of choice and financing of innovative projects in Life Sciences, not occasionally, but systemically. And all of us together need to learn and accumulate success stories that will be positive motivating examples and models for development both for idea developers, and for other investors.
- Team Drive has a task of successful commercialization of Rusnano transactions. As they are venture transactions, they involve high risks. These risks are increased even more, because in Russia there is no sustainable system of output of innovative products to the market, even promotion of a successful development requires public lobbying or applying dumping prices. Have you already found a solution to this problem?
- Of course, working with a particular drug, we carefully calculate its commercialization. For example, on Nexagon, which we got from CoDa Therapeutics, at the stage of the preparing a deal, we have built a business plan describing how it will generate profit from its production. We know how it will be promoted, who will be its consumer and payer. In these calculations, we cannot hope for any lobbyist-wing actions in public institutions. We put a stake on the fact that drugs we will bring here will find their consumers, simply because they are needed and much better than their analogues. It makes no sense trying to promote other products. For example, Nexagon, according to available data, may become four times more effective than any analogue. It is a drug for treatment of diseases common in the country, but having not enough effective methods of treatment at the moment. Our business plan is based on the fact that Nexagon will be needed, even if it does not get, for example, into the list of Additional pharmacological support or vital and essential medicines. It can be bought through retailers, on prescription. In addition, we hope that the preparation of such quality cannot but be included in hospital procurements.
- Team Drive has been only working with Rusnano and Domain Associates project yet?
- Yes, because it is quite a vast and expensive project, and we must do everything to make it "flying" at high altitude. In general, Team Drive can work with other partners outside the pharmaceutical industry.
- You left the office of President of Sistema JSFC in order to create Team Drive and work with Rusnano?
- When I finished my contract with Sistema JSFC, I knew nothing about the project of Rusnano and Domain Associates. It was not a pre-planned platform for transition. I left to start something interesting from scratch. I was planning at the next stage of my career to offer in the market a new service that can be called "high-quality team managerial competence" - my management experience and the experience of my colleagues in management of large projects. Such ready team is needed, for example, by owners of assets, which solve the problem of quick and significant increase in the value of their companies and creating maximum value when launching new projects. This idea is the basis of the company we have created - Team Drive - and I think it has good prospects.
- Did you know that your first project will be in the pharmaceutical market?
- No, we're pretty versatile. I think, if a team is tuned for good governance, its involvement will give result in any industry. As Tolstoy said: "All happy families are happy alike". But I understand that this truth has yet to prove in the field of management, especially in Russia.