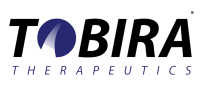 | | |
| --- | --- |
| Site | |
| Stage of funding: | Completed |
| Therapeutic group: | Gastroenterology |
| Type: | Drug |
Description
Tobira Therapeutics is a clinical-stage biopharmaceutical company focused on the development and commercialization of therapies to treat liver disease, inflammation, fibrosis and HIV. The company's lead product candidate, cenicriviroc (CVC), is a first-in-class immunomodulator and dual inhibitor of CCR2 and CCR5 being evaluated for the treatment of non-alcoholic steatohepatitis (NASH) and HIV.
CVC is an oral, once-daily, potent immunomodulator that blocks two chemokine receptors, CCR2 and CCR5, which are intricately involved in the inflammatory and fibrogenic pathways in NASH that cause liver damage and often lead to cirrhosis, liver cancer or liver failure. This mechanism differs from metabolic targets related to the pathogenesis of disease. Tobira believes this novel approach will establish CVC as both a single-agent and as a cornerstone treatment in multi-therapy regimens for NASH, for which there is currently no approved drug.
CVC is currently being evaluated in Tobira's Phase 2b CENTAUR study (identifier NCT02217475) and the company expects to reach the study's primary endpoint in the second quarter of 2016. CENTAUR is comparing CVC to placebo in approximately 250 patients with NASH and liver fibrosis, and the study includes endpoints identified as suitable for registrational studies in the findings of a recent FDA-AASLD workshop. To date, over 600 subjects have been dosed with CVC in Phase 1 and Phase 2b clinical studies, including 115 HIV-1 infected subjects on treatment for up to 48 weeks. CVC has been granted Fast Track status in patients with NASH and liver fibrosis, the patient population at highest risk of progression to cirrhosis.
NASH is an emerging health crisis impacting 3% to 5% of the U.S. and 2% to 4% population globally. It is the fastest growing cause of liver cancer and liver transplant in the U.S. due to the rise in obesity. Additionally, this population is estimated to be three to five times larger than the size of the population with hepatitis C in the U.S.
Tobira Therapeutics, Inc. (NASDAQ: TBRA) was acquired Allergan plc (NYSE: AGN) in September 2016.